.03
Charities
With every ticket purchased, you will be given a POE token, but feel free to buy more. Each token is a $1 pledge towards any one (or more) of these fine charities. Put your token where it means the most to you, or whoever needs it the most at the time.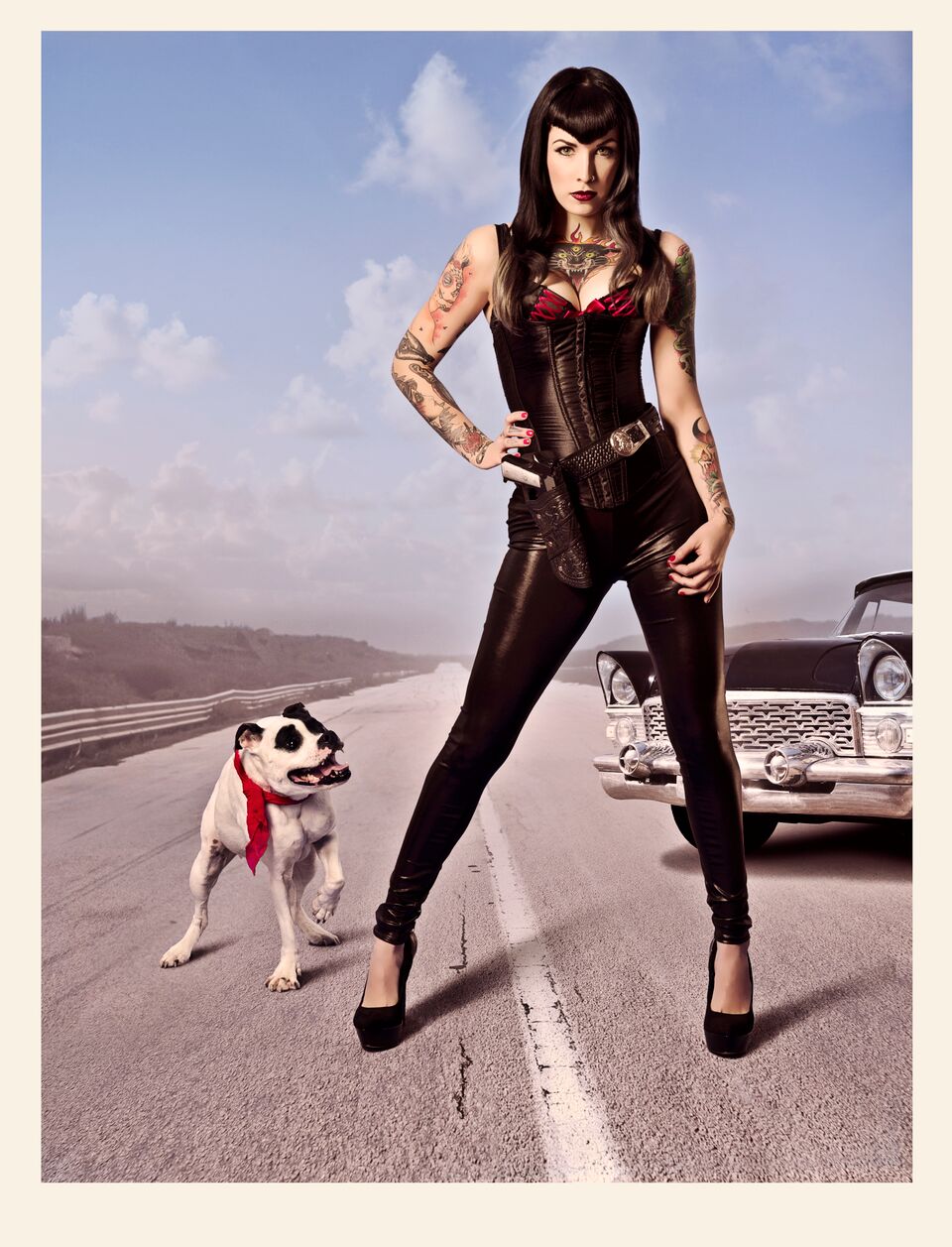 Pinups for Pitbulls, Inc. (PFPB) was founded in 2005 by Deirdre 'Little Darling' Franklin. Deirdre was tired of finding that so-called rescues and shelters were euthanizing healthy, friendly, and adoptable animals due to their alleged "breed," and so she utilized her background in modeling and education in fine arts to create a calendar like no other–eye-catching pinup girls and their pups, paying close attention to detail and era appropriate style along the way.
Since 2005, PFPB has continued its progress and has grown exponentially into the internationally recognized organization it is today. Deirdre's initial vision and mission has remained intact, however her passion for animals and her ability to capture an audience has enabled PFPB to reach people across the world.
PFPB is a 501(c)3 not-for-profit organization whose mission is to educate people about the history, temperament, and plight of the pit bull-type dog; raising awareness to rally against Breed Specific Legislation (BSL) and Breed Discriminatory Laws (BDL). PFPB's goal is to restore the image of the pit bull-type dog to its former reputation of America's companion animal, war hero, and family member.
Through Deirdre's ever-growing team of volunteers in over twenty states, PFPB has been able to host educational seminars, community outreach initiatives, and fund-raising events throughout the United States, Canada, and even reaching to Europe. In its educational crusade, PFPB hopes to end discrimination, abuse, and the unnecessary killing of pit bull-type dogs around the world–all the while dreaming that one day, PFPB will no longer be needed.
Philadelphia Metro Wildlife Center (PMWC) was founded in 2018 and brings together a team of two wildlife rehabilitators with over 30 years of experience treating injured and orphaned wildlife, and over 60 volunteers who help to care for animals 365 days a year. As part of our mission, we use unreleasable wild animals as our "ambassadors" to allow the public to discover the beauty of Pennsylvania wildlife up close and to encourage them to become responsible stewards of their environment so that these species will remain healthy for generations to come!
Operation Monarch is the non-profit run by the Philadelphia Insectarium and is dedicated to educating the public about the population decline of the monarch butterfly. We provide educational programming to schools and local residents that focus on the current threats to this important species and what can be done to help. Operation Monarch also coordinates several community milkweed planting projects and conducts research on how to optimize planting programs to help create pollinator habitats. Donations go towards supporting these educational programs.
America's finest museum of medical history, the Mütter Museum displays its beautifully preserved collections of anatomical specimens, models, and medical instruments in a 19th-century "cabinet museum" setting. The museum helps the public understand the mysteries and beauty of the human body and to appreciate the history of diagnosis and treatment of disease.
A message from the Mütter Museum staff:

Your money will go towards the conservation and preservation of our amazing anatomical specimens. Some of the museum objects are very old and require constant upkeep and restoration. Our staff works daily to preserve this historical collection, and we need your help!
(in loving honor of Steve Matt)
Founded in 1999, ALS Hope Foundation is an independent non-profit located in Philadelphia, PA. The Foundation is committed to the care and cure of people with ALS, a fatal neurodegenerative disease that robs a person of their ability to walk, eat, speak and eventually breathe. There is currently no known cure. But there is hope.
The Foundation supports the MDA/ALS Center of Hope at Temple University Hospital, an ALS clinic that provides multidisciplinary care free of charge. The Center of Hope is committed to providing the highest level of care possible so that PALS can live their best lives and maintain independence for as long as possible.

While ALS Hope Foundation is relatively small, the impact is great with all funds raised going to services and programs directly benefiting PALS as well as educational and research initiatives. This is made possible through the generous support of individual donors and community partners. Together, we can fight to defeat ALS and provide the highest level of care for families living with the disease.